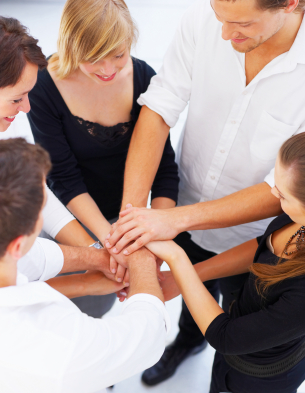 Extraordinary results are accomplished when a team is cohesive, trust levels are high and communication is open, skilful and transparent. When a team is fragmented or mis-aligned, it operates as a team in title only.
Far too often work is undertaken in silos, or isolation, leading to mis-alignment, mistrust and negativity, easily wasting time, opportunity and resources.
Our Team Development programs provide the distinctions and understanding to create the right structures, processes and moods to consistently generate sustained success. As a high performance team you will continue to achieve results even during periods of rapid change, unnerving complexity or uncertainty.
Team Development with Skilful Action will enable you to:
Uncover and remove the blocks to powerful team-work.
Align team vision, values, process and strategy with that of your organisation.
Ensure that individual values align with the team.
Set goals that foster 100% accountability.
Foster team focus and energy levels.
Discover and practise the conversations needed for team success.
Address current and anticipated team problems.
Create environments of learning, possibility and coaching.
Engage regular feedback loops that ensure continued growth, learning and success.
When teams are high performing there is consistent buy-in by team members to the vision, values and goals of the team. The mood is managed well and as a result retention is increased while top players advance more rapidly.

Email or call today to discuss how we can tailor the best intervention for your team.